About Us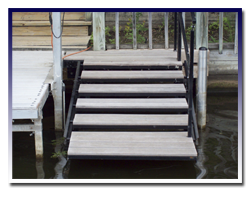 The Hide-A-Step was the brainchild of the founder, Val J. Peter. Mr. Peter came upon the idea of raising and lowering a set of stairs, which makes it easier for his mother to enter and exit her pontoon boat. For years, Mrs. Peter had no trouble getting on or off her pontoon boat. As she grew older, she found, she could no longer get on her pontoon boat and enjoy the lake, on which she has lived for more than forty-five years.
If you have ever witnessed an elderly person actually crawling on a dock and then stepping down on expensive boat seats, that is not a pretty sight, according to Mr. Peter.
After thinking about the problem, Mr. Peter set out to come up with a solution to this problem. The first idea which Mr. Peter came up with, was a set of stairs that would self adjust to a floating dock. After building a set of these stairs it became apparent, the stairs, as designed, would not work. After about 6 months of redesigning the stairs, a new set was manufactured. The new design utilized the use of PWC boat lifts. These lifts allow the Hide-A-Step to adjust to the changing water levels during the summer. Not only does the Hide-A-Step make it easier to get on or off your boat, but it also gives the user Easy Access to the Water.
After thorough testing and a few more changes, the Hide-A-Step was ready for production. The Hide-A-Step can be adapted for most PWC lifts. The Hide-A-Step shown in the DVD, uses a PWC lift manufactured by ShoreStation. ShoreStation does not endorse the use of their lift in this manner. The lifts are manufactured for PWC use only and any changes to the lifts may void any warranties.
Each Hide-A-Step is built with extreme precision and, when ordering, the customer needs to identify which PWC maker and model of lift they will be using. Also, you need to let us know if you need the adjustable legs.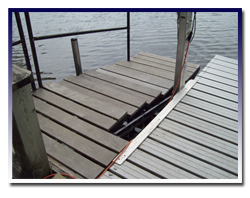 Before installing the Hide-A-Step on a used PWC lift, the lift should be inspected by a qualified installer, to ensure the safe operation of the stairs.The inspection should include all cables, pulleys, lifting straps, motors or manual controls. Replacing all worn or potentially worn parts will insure the safety and operation of the stairs.
The stairs can be lowered into the water for a day in the sun and at the end of the day, the stairs can be raised where they dry over night and be ready for the next day. The Hide-A-Step can be ordered to fit on the left or right side of the dock. The  handrail can be located on either the left or right side of the stairs. The grab bar (not shown) makes exiting the water easier.
   As Mr. Peter likes to say, The Hide-A-Step, Easy Access to the Water